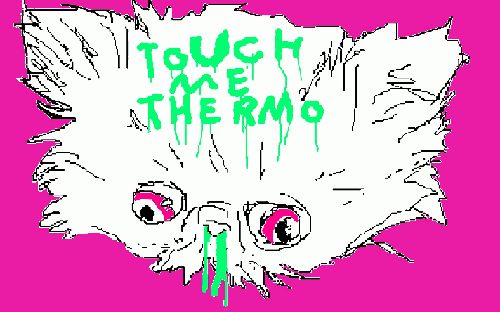 Saw these sasseeh gals last night at Stengade 30. They are the next thang out of Denmark, brother.
I tell you, if I had a record label, I'd sign them instantly!
Check them out before they check you out.
"You try to hard
u suck"
- Touch Me Thermo

About Touch Me Thermo by Stengade 30 (Translated with a machine of course... almost incomprehensible but you might get the picture anyway...):
"Out of the blue comes this 2 Copenhagen girls (they were 3 yesterday!?), armed to the teeth with 8-bit beats and catchy vocal melodies. They are playing through a noisy electro universe that allows the ideas fall into a slow version Atari Teenage Riot or unpolished version of Ladytron. A-care attitude and is seething unrest behind the distorted sound and threatens constantly to drag you back to the avant-garde club in Berlin or London in the'80s. It is raw and cold as a butcher's window yet, sources a little of the heart as a spring infatuation."